August 14, 2014 – 9:12 am
ACULibrary
**Update – we are now a FINALIST in the awards! Show your love for the North Sydney Library and vote now! Voting closes 17 August **
About the design and the design process…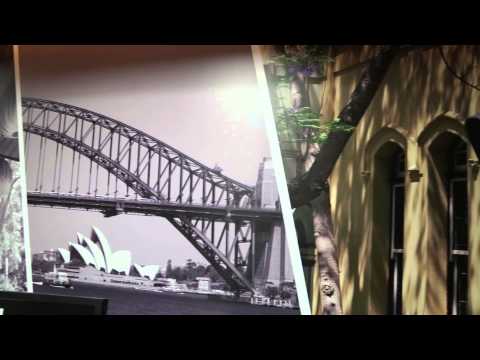 Last month we posted the exciting news that North Sydney Library had been nominated for an IDEA Award, that's an Interior Design Excellent Award in the public space category.
Last week we heard more exciting news as we found out that the North Sydney Library refurbishment has been shortlisted for a second design award! Interior Design – Public or Institutional for the 2014 Sydney Design Awards.
And you can vote for the Library! Public votes accepted, but voting closes 17 August.
Below is some of the information from the designer – BigCity Design or read about the full nomination.
Project Overview
"This striking internal 'neighbourhood' within an existing library has brought a sense of belonging and identity to the Australian Catholic University's compact North Sydney campus. The comprehensive refurbishment has delivered social and learning facilities that embrace the cultural identity of the ACU and offer young, vibrant, welcoming environments that are reminiscent of home and community.
"When strangers start acting like neighbours…communities are reinvigorated" Ralph Nader
Spaces to gather, places to learn and quiet corners to be on your own have all been included in this home away from home"
Project Brief
"Australian Catholic University's student facilities in North Sydney lacked the sense of community and belonging for which the university is renowned. The North Sydney campus attracts students from around the world.
The brief was to create a new learning hub in the location of the existing North Sydney library and adjacent teaching spaces. The refurbished environment was to be inclusive and familiar to the student community while encouraging social interaction and supporting teaching strategy.
The project site, on the lower ground floor of an existing late 20th century building, was neither inspiring to its occupants, nor engaged with its environment. As a building located within a small site adjacent to a restrictive residential zone, it offered little opportunity to create dialogue with its surrounds.
Existing student facilities lacked a sense of place, or belonging. Wasted space and poor environmental services were uninviting and lacklustre. Groups of students strewn along narrow corridors would roll aside to allow passers-by through. There was no sense of purpose and no purposeful ownership.
The refurbishment project provided an opportunity to introduce vitality, youth and place into the previously uninspired campus".
Sustainability
"This project focused on three sustainability aims – replace, reuse, consider.
REPLACE
The existing premises required significant upgrade works. Measures were implemented to lower energy consumption, improve environmental comfort and optimise the user experience.
REUSE
The design was carefully developed to optimise furniture and finishes reuse where possible. Chairs and library stacks were redeployed throughout – significantly reducing demolition waste and environmental impact.
Existing painted brick walls were retained, reinvigorated and featured throughout the new fitout.
CONSIDER
New materials were carefully selected for their green credentials including wool fibres, timber features, low VOC paints, and durable finishes.
Life cycle and adaptability were carefully considered to allow ongoing modifications and maintenance without needing to totally replace the fitout.
Purposeful furniture was nominated and impractical 'embellishments' were eschewed.
Fabrics were specified for high rub, low maintenance qualities. They were applied in colourways in a 'patchwork' style to furniture. This allows for a single panel of fabric to be replaced without the need to reupholster an entire suite of furniture due to fabric unavailability".
What's your favourite space at North Sydney?
Tags: award, competition, design, North Sydney Library, sustainability, voting